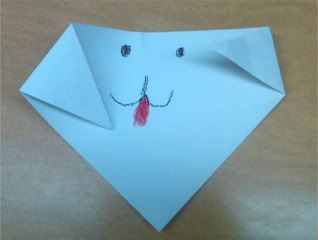 I got the idea for the White Dog from
Enchanted Learning's
website. If you are at all interested in crafts for children,
Enchanted Learning
is a wonderful resource. I used the pattern (
click here
) for the "Delightful Dog Card" using white construction paper. The children could easily construct this dog and personalize the face. I loved seeing all the different interpretations and creative ideas for the faces! I also used this same pattern for a "d is for dog" lesson in previous years.