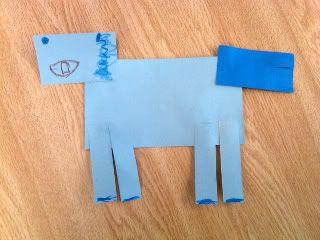 Our Blue Horse is made up entirely of rectangles. For some reason, the rectangle is the trickiest shape for my kindergartners to remember. This project is perfect for giving them something to refer to when thinking about rectangles. All of the parts are cut out on the paper cutter. Since there is no cutting required on the student's part, I wanted to at least include a new cutting skill for them to try...fringing! I showed them how to fringe the dark blue triangle to make the horse's tail. In past years, I have noticed my students using this technique creatively in the art center. They always refer back to the "horse's tail" when they show me something they fringed.
Below are the measurements of each piece I used:
Head - 4" x 2.5"
Body - 8" x 4.5"
Legs - 1" x 4"
Tail - 4" x 2"
To finish the project, allow the kids to personalize by drawing a mane, a face, hooves, etc.